Lorena Harris, The Pedowitz Group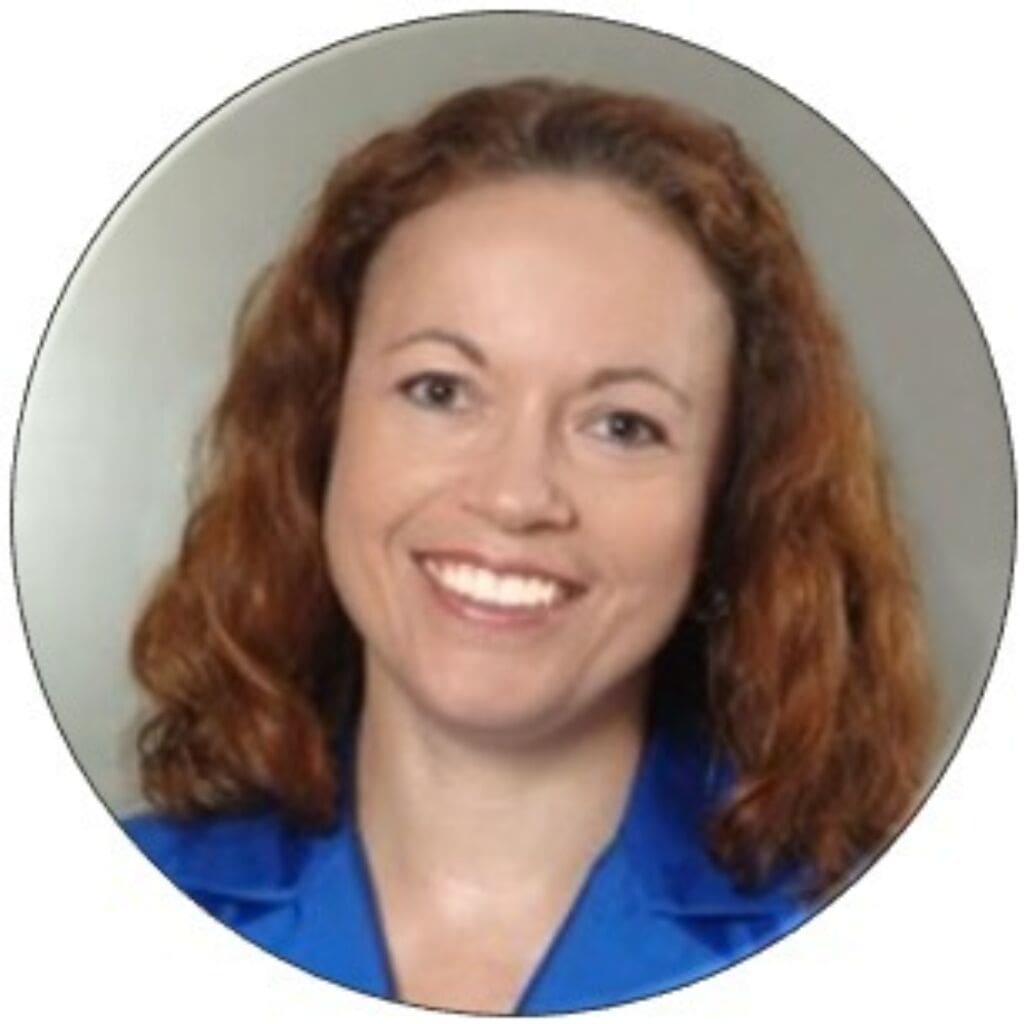 Let's start with The Pedowitz Group's (TPG) definition of ABM: "ABM is a coordinated program to target and engage a defined set of accounts across all marketing and sales channels and across all stages of the buying process in order to maximize their life-time value."
Three core concepts are at the heart of ABM – we call them the three "TIONs:" Communication, personalization and orchestration.
Tion #1 – Communication is more than a cliché. It's about silo-busting. It's about marketing communicating what they know about account activity and sales communicating what information accounts need.
Tion #2 – Personalization is about investing the time and money to speak to key contacts at key accounts in a personal way – addressing their pain points, solving their problems and helping them succeed.
Tion #3 – Orchestration is about delivering seamless account experiences. Everyone knows their part and script, so accounts get the right message in the right channel at the right time.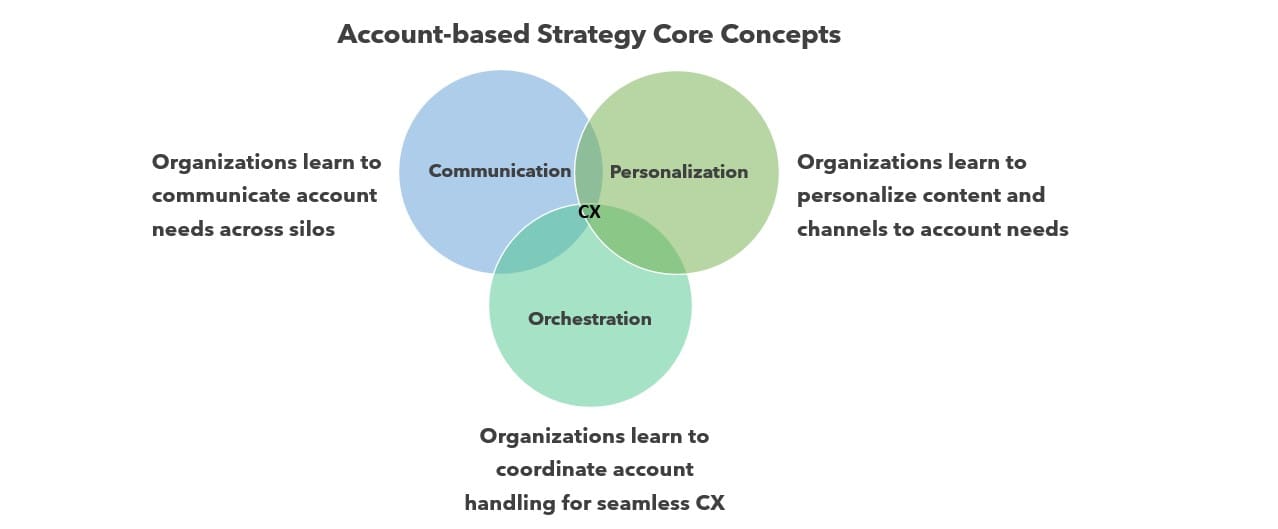 But as you consider our (or any) definition of ABM, you must also consider what ABM is NOT. Take a moment to re-frame the definition in the context of three truths.
Three Truths About ABM You May Not Want to Admit
ABM is NOT a tech-only solution.
ABM is NOT a marketing fad.
ABM is NOT a silver bullet.
Captured your interest? Read on!
ABM Truth #1 – ABM Is NOT A Tech-Only Solution
As much as software providers might like you to believe it, ABM is NOT just a technology purchase. With too many martech platforms to count on the market, it may seem like you could pick a solution off the shelf. But purchasing an ABM tool or intent data will not ensure account engagement or program success.
Why? Because ABM is a discipline based on customer insight, personalization and cross-functional collaboration. To make it work, organizations must fix their communications problems and meet their customers' information needs. Unfortunately, while technology can enable cross-functional communication, it cannot replace it.
ABM Truth #2 – ABM Is NOT A Marketing Fad
ABM is NOT just another point solution executed by marketing. ABM IS an account-centric form of demand generation for use in expanding the customer base and cultivating net-new clients. But that's not just marketing's job – it takes the whole village! Marketing may have been on point for customer experience in the past, but now everyone must get on board.
As organizations project the lifetime value of key accounts, they are realizing they cannot maximize results by continuing to deliver siloed marketing and sales experiences. Successful organizations see ABM as a methodology for working across silos to satisfy the rapidly changing needs of new and existing key accounts. ABM is not about business-as-usual with an account focus, it's about organizing to meet customer needs at every level and every stage.
ABM Truth #3 – ABM Is NOT A Silver Bullet
ABM is NOT a silver bullet for fast revenue. So much has been written about the great results of an ABM program, it may look like a quick fix… Just look at these numbers:
87% of marketers say ABM outperforms all other marketing investments in terms of ROI (ITSMA);
Average contract value increased by 171% after implementing ABM (ABM Alliance research); and
86% of surveyed companies reported higher close rates with using ABM and increased lifetime customer value (Topo via 6Sense).
Not so fast. It can take years for companies to develop effective demand generation engines. Some never do. Cast in this light, TPG's point of view is that ABM skills must be developed over time. As we discussed in the last section, marketing and sales must learn to orchestrate customer experiences together, which is a substantial sea-change for most organizations.
Meanwhile, customers are demanding relevant, connected communications and increasingly will not forgive a fragmented experience. If you cannot wait for your organization to evolve an effective ABM program organically, outside resources can help you adopt ABM skills more quickly and drive organizational change more cohesively than is often possible from the inside.
ABM: NOT Just Another Campaign Type
When it comes down to it, ABM is a sea change, not a workstream. It's not marketing as usual with an account flavor. ABM's methodology isn't technology-first, but is technology-enabled. It's not just another marketing campaign, but it requires all those skills. It's not a silver bullet in the short term, but a solid approach for maximizing account value over the long-term.
ABM may sound like a heavy lift, but the rewards go beyond revenue:
Clients feeling more understood and satisfied with the relationship;
Marketing able to produce more relevant campaigns and content;
Sales having more support in meeting customer needs; and
Marketing and sales becoming more aligned on account strategy.
With ABM, you'll be able to deliver experiences that will keep customers for a lifetime of value.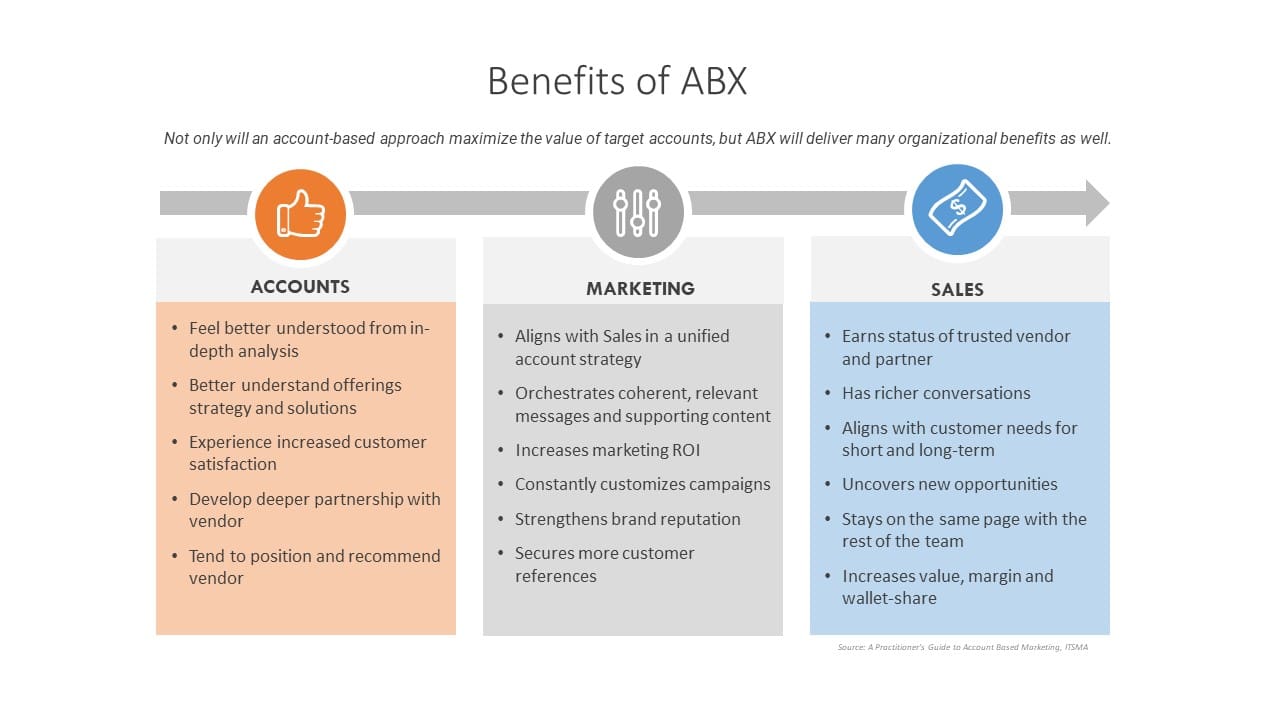 ---
Lorena Harris is a Senior Strategist with The Pedowitz Group, joining after VP-level positions at several Fortune 500 companies. She specializes in designing roadmaps for change across marketing operations, programs and campaigns. When not exercising her mind on marketing strategies, she can be found exercising at the gym. LinkedIn  | Twitter