ATTRIBUTION is a hot topic for most marketers these days, but it is of special importance to ABM practitioners looking to track how multiple stakeholders from key accounts are engaging with their brand.
Prior to implementing an ABM strategy, call intelligence company Invoca practiced a first-touch attribution model. Now, the company takes a multi- touch attribution approach to measuring the success of its ABM initiatives.
"[Multi-touch attribution] helps provide a clearer picture of the different stake- holders involved in the buy- ing process, especially those that may have been influential but not necessarily tied to the account record," said Julia Stead, Director of Demand Generation at Invoca.
Invoca is utilizing BrightFunnel, an attribution and forecasting tool, to help its marketing team measure its ABM initiatives.
When they began implementing ABM, Invoca had to create a new set of "leading" metrics.
These include:
Overall number of engaged accounts;
Conversion rate from engaged account to opportunity; and
Velocity of engaged accounts from opportunity creation to revenue.
Stead added that the company "no longer focuses on the number of leads sourced by marketing and the trickle-down conversion rates to predict [the number] of opportunities created each month."
ENGAGEMENT METRICS IDENTIFY PROFITABLE CHANNELS
Invoca also wanted to identify the channels that were the most successful in driving engagement among its key accounts. To do so, the marketing team isolated specific ABM programs for specific channels.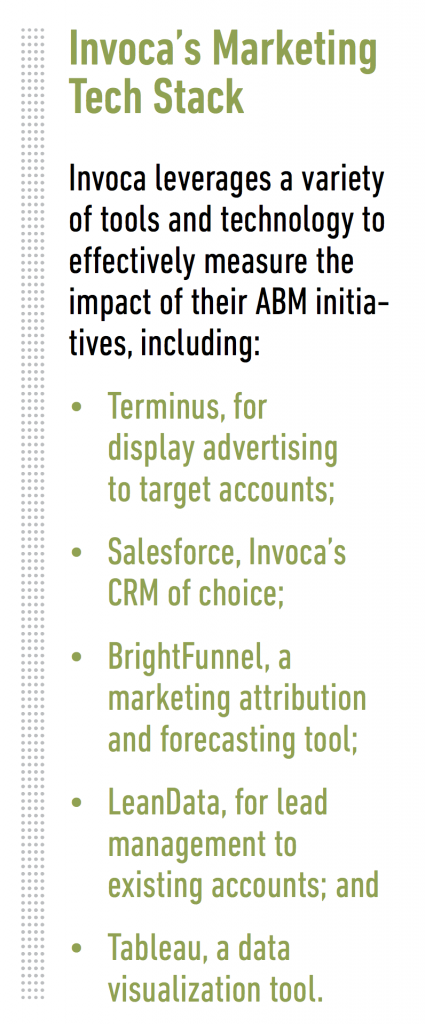 Using the Terminus solution, Snead said Invoca can create account-targeted dis- play ad campaigns to match the different messages and others to similar accounts across multiple channels, including email, direct mail, live events and more.
"Depending on the campaign, we've seen anywhere from a 20% to 200% uplift in opportunity creation for those accounts that see the [advertising]," Stead noted.
This also helped Invoca identify channels that were contributing to the bottom line. Using a multi-touch attribution model, the company noticed that in-person events such as executive sales dinners and other similar events had a big impact on opportunity creation.
"We were able to prove that these events were worth the spend to help push these opportunities past the line, and help close revenue," Stead noted.
Since implementing a multi- touch attribution strategy, Stead has seen significant results for the company's ABM efforts. "In the first two quarters of leveraging ABM, we saw our pipeline double," she concluded.