ACCOUNT-BASED MARKETING has gained significant traction in 2016. Close to half (47%) of marketers have an ABM strategy in place, and 33% indicated they are planning to implement ABM in the next 18 months, according to new research from De- mand Gen Report. In comparison, 20% said they had no plans to implement ABM.
The publication's inaugural ABM Benchmark Survey Report also revealed that new analytics, orchestration, advertising and reporting have been rolled out by many B2B marketers to support ABM.
While ABM has been around for some time, it's still a new discipline for most B2B marketers. Fifty-nine percent of respondents using ABM said they've done so for less than a year, and 29% said they've been at it for less than six months. Sixteen percent said they've been practicing ABM for one to two years, while 25% have had ABM in place more than two years.
ANALYTICS, CAMPAIGN ORCHESTRA- TION TOOLS DEEMED CRITICAL
Several tools are being implemented by organizations as part of ABM, and a few are considered critical. Ninety-two percent of respondents are using analytics tools to support their ABM initiatives, with 59% describing them as a critical tool. The majority (91%) also cited using campaign execution and orchestration tools, with 61% calling these tools critical.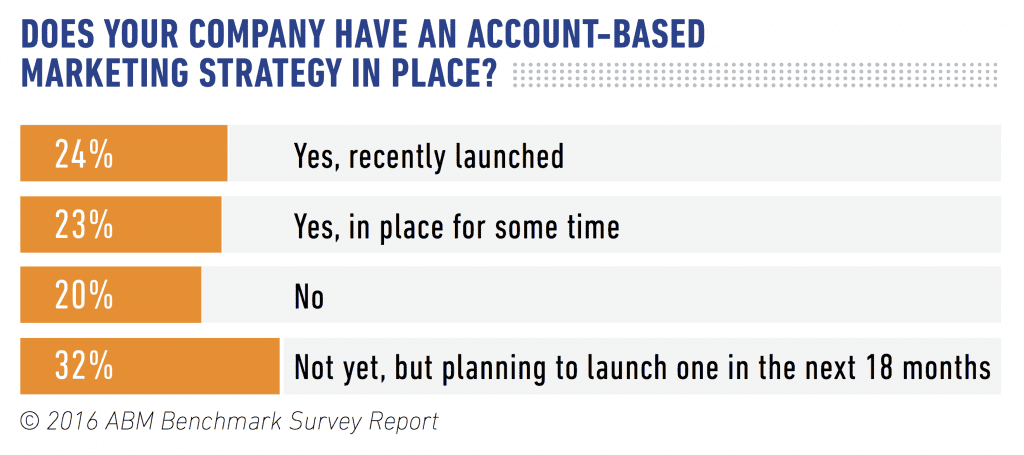 Data and augmentation tools, and insight and intelligence tools, also scored high. Sixty-four percent said they use account-based advertising to support ABM, and 49% are using predictive tools.
TARGETED, HIGH-TOUCH MESSAGING KEY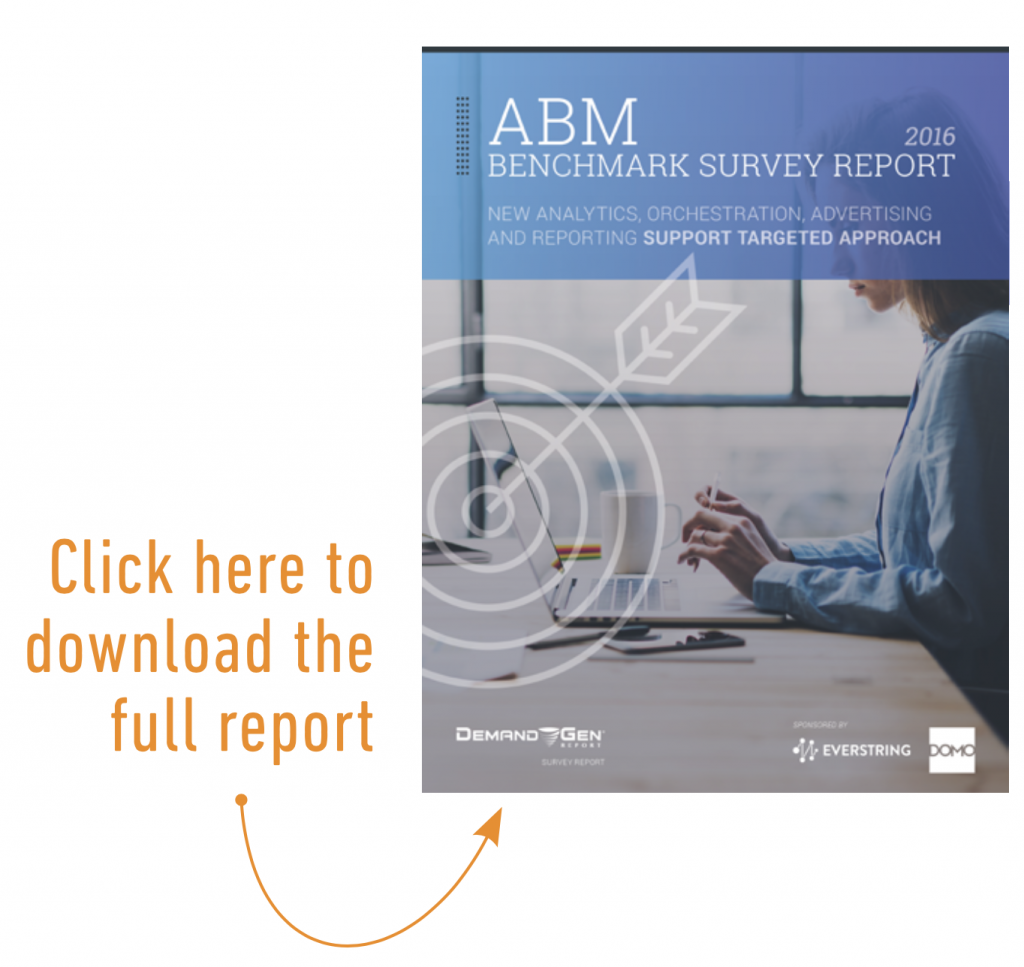 The majority of marketers said they are customizing their outreach, according to the study. Seventy-five percent of marketers are delivering targeted content tailored to a specific industry, and content tailored to a specific role was cited by 51%. Nearly half (49%) said they deliver personalized/custom messages for each account.
Content offers and lead gen formats marketers are adding for ABM initiatives are primarily a mix of:
Targeted executive events (66%);
Interactive content tailored by industry or role (62%); and
Direct mail (60%).
Email is employed the most for delivering targeted ABM offers. A total of 96% of respondents said they are currently using email, and the remaining 4% said they plan to use email in the future.
Organizations adopting ABM are already shifting their conventional metrics from MQLs to more revenue-focused goals.
Account-based advertising, automated sales enablement and resource centers were also near the top of the list:
85% of respondents said they are using account-based advertising or plan to;
78% are using an automated sales enable- ment platform or plan to; and
71% are currently or plan to use custom resource centers
Account-based nurturing programs and telephone prospecting rank high. 72% are using account-based nurture, and 71% currently use tele-prospecting.
MEASURING THE IMPACT OF ABM
One of the top challenges for ABM practitioners is proving ROI and showing attribution (cited by 47% of respondents).
The survey found that organizations adopting ABM are already shifting their conventional metrics from MQLs to more revenue-focused goals.
When asked how they measure their ABM efforts, the responses showed:
64% measure contribution to pipeline;
59% track pipeline velocity; and
53% keep tabs on net-new accounts engaged.