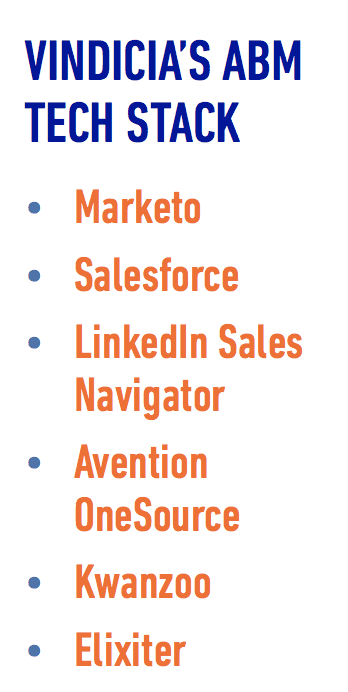 AN EFFICIENTLY segmented database can impact multiple aspects of an account-based marketing strategy. When Vindicia, a provider of subscription billing and recurring payment solutions, aligned its retargeting campaigns and website with its target accounts, it saw a big boost in engagement. In one particular campaign segment, Vindicia saw a .26% click- through rate — which is roughly 260% higher than its average .10% baseline.
Using an ABM strategy, the sales team worked with marketing to identify 1,200 accounts to target. Kevin Cancilla, Vindicia's Senior Director of Marketing, and his team were identified stakeholders within those accounts through the help of Avention's OneSource ABM solution. The tool enables the marketing and sales teams to align around actionable data found within the company's database — as well as third-party data sources.
Cancilla and his team then segmented the accounts by key verticals, such as entertainment, sports and online services. The team chose 50 accounts per geographic region as its "Prime 50" — the company's primary targets.
"The SDRs are our secret weapon; they are the difference-maker." Kevin Cancilla, Vindicia
"We're able to go in and identify those [Prime 50] accounts by potential revenue, size of the opportunity, as well as the number of global divisions within the account," said Cancilla. "The premise was that if we could identify [the accounts], we could set them up in Salesforce and populate the accounts with target [stakeholders]. The problem was that we lacked a lot of that data."
Avention OneSource also helped Vindicia understand potential customer segments by analyzing Vindicia's competitors to see which segments were being targeted by competitors.
"Inside sales reps were manually identifying new accounts," said Cancilla. "Now one-third of our business is coming out of net-new competitive target accounts."
WEBSITE AND AD RETARGETING BENEFIT FROM SEGMENTATION
Segmentation has also led Vindicia to enhance other parts of its marketing initiatives, especially retargeting and website strategies. Cancilla highlighted how technology helps.
Along with retargeting and traditional nurturing channels, sales development reps (SDRs) are able to analyze account engagement and provide timely messaging when these accounts need it.
"The SDRs are our secret weapon; they are the difference-maker," said Cancilla. "It's all about timing; you could keep serving up content, but the goal is to get people predisposed to your offerings before they even think they need to buy a solution."