WHEN MEDIDATA SOLUTIONS moved its checklist-based, spray-and-pray prospecting approach to a focused account-based marketing strategy, its marketing department tripled its contribution to the clinical development firm's revenue.
That's not too shabby, considering that before adopting ABM, "Sales felt marketing had no utility except laminating sales sheets," said Medidata's Vice President of Global Field Marketing John Seaner. "Not only did we have to make an ABM program, we also had to change that perception."
THE MOVE WAS NOT WITHOUT RISK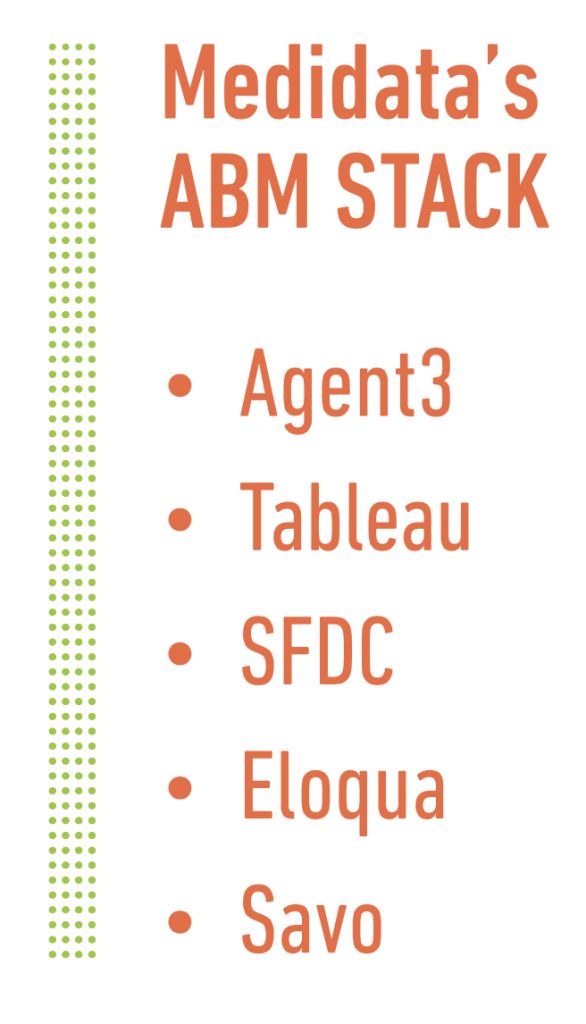 Medidata provides enterprise resource planning for clinical trials run by pharmaceutical companies. Its clients include the top pharmaceutical companies, as well as emerging biotech firms. Because the size and scope of deals with these types of clients can span above seven figures, a change in approach that wasn't successful would have a significant impact on revenue.
In a way, the high stakes of each individual deal worked to boost the business case for the proposed change in approach. "When the average clinical trial costs a billion dollars and takes ten years, a company doesn't want to take risks," Seaner said.
"WHEN THE AVERAGE CLINICAL TRIAL costs a billion dollars and takes ten years, A COMPANY DOESN'T WANT TO TAKE RISKS." John Seaner, Medidata
The ABM approach was designed to offer an additional layer of reassurance to the CEOs, CFOs, Chief Medical Officers, and research and development heads who would have a hand in signing off on purchase approval. For Medidata, this meant understanding the needs, fears and aspirations of every individual involved in the purchase process — as well as their actual role in making a purchase decision. Medidata worked with SiriusDecisions for its guidance on creating the ABM strategy, Seaner said.
A TARGETED APPROACH TO THE BUYER'S JOURNEY
Within a specific enterprise, Medidata might craft up to 16 different approaches for specific individuals. "We are very granular with our customer experience/buying journey maps so we can increase our fidelity with respect to analysis," Seaner said. "We expand past the traditional (user, evaluator, recommender, buyer, influencer, approver, budget holder, etc.) that most B2B enterprise software companies utilize."
Seaner's group limited its reach during the initial early 2014 tests of its ABM strategy. It selected 100 high-level corporate prospects. There may have only been a few accounts, but they were crucial ones: In aggregate, they generated 78% of the pharmaceutical industry's revenue and consumed 70% of industry research and development spending in 2014.
At Medidata, a new team consisting of employees pulled from sales, marketing, customer care, data science and finance pooled its knowledge about the individuals within each target company. The group isolated 1,600 individuals at its 100 target companies who controlled around $9.1 billion in potential business. Medidata had its prospect list.
UNDERSTANDING DECISION-MAKERS AT TARGET ACCOUNTS
Next, the company created a series of "buyer ethnographies." Through these, the sales team hoped to gain better understanding into what motivated each decision-maker.
"We looked at the conferences they attended," Seaner said. "Who their peers were. We understood their interests, where they spoke, who they spoke with directly through social media and what they spoke about, how they tweet if they tweet, the types of information they consume, and the channels they prefer when consuming it." That level of detail, Seaner added, is essential when engaging with C-level executives.
There was another element to the buyer ethnography: How apt each executive was at adopting new technology. That knowledge helped Medidata set the tone of the discussions it had with every individual, and enabled its staff to speak to their comfort levels. "We wanted to create 'decision assistant packages,'" Seaner said. "We didn't want to market to them."

Agent3, a London-based digital marketing services firm, provided the primary technology component Medidata used. The company's platforms helped give order to unstructured prospect data. Agent3 also provided Medidata with a predictive algorithm which played an essential role in determining "next step" communication activities.
PROGRAM'S EFFICACY LEADS TO SHIFT IN SPENDING
The personal touch approach worked. While Medidata didn't disclose hard sales increases that resulted from the ABM program, it did offer several measurements that attest to the program's efficacy. The program helped recognize 41% more qualified leads within prospect companies to target, he said. According to Seaner, purchase velocity — the time the process moved from initial contact to signed agreement — improved by 133 percent.
Additionally, Medidata's marketing staff reported benefits to their conversations. The depth of knowledge — insights, information and habits — staff members could claim for each of its target individuals nearly tripled. They reported that seven times as many senior-level prospects were engaged and having conversations that led to mutually beneficial relationships.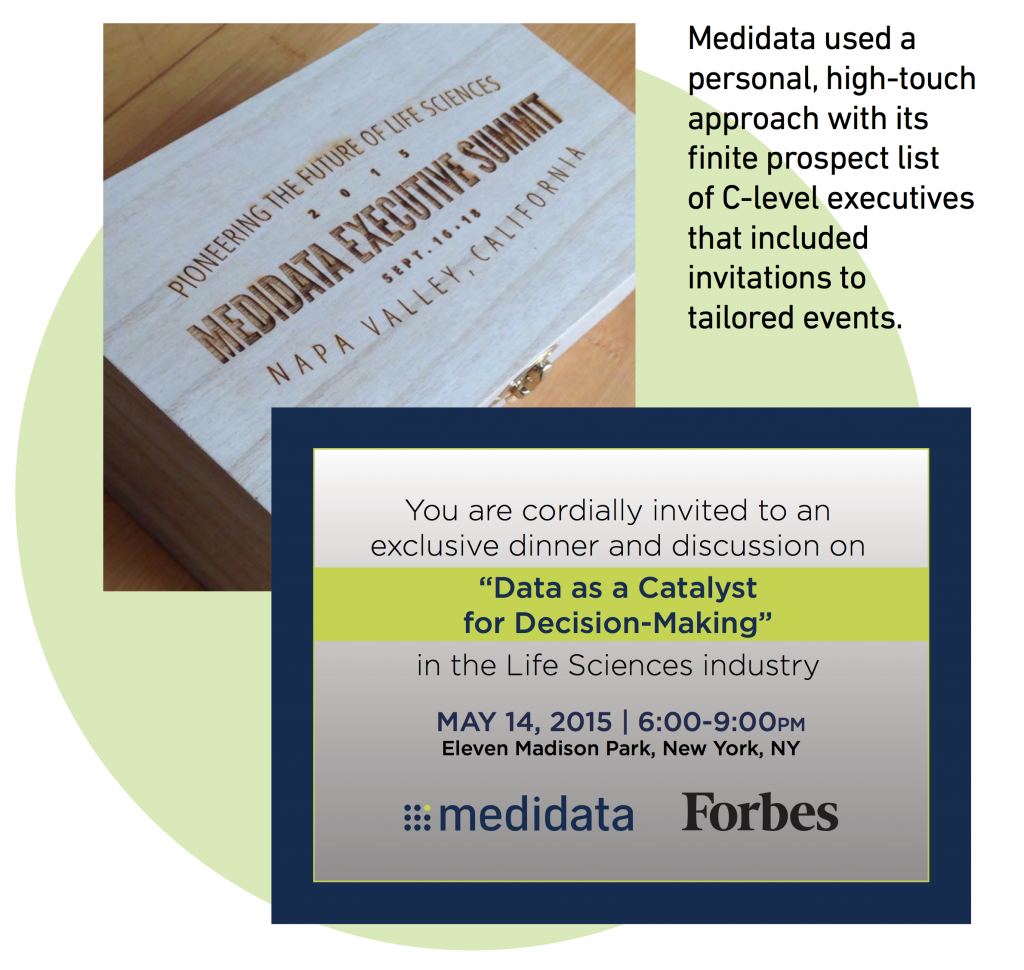 There were even benefits a CFO could love. According to Seaner, Medidata's marketing department has substantially shifted its spending priorities. "My marketing budget when I first started [was allocated to] 80 tradeshows a year and 50 webinars," he said. "This year, we'll go to 12 tradeshows and host four webinars. Around 85% or 90% of the marketing budget is now allocated to ABM."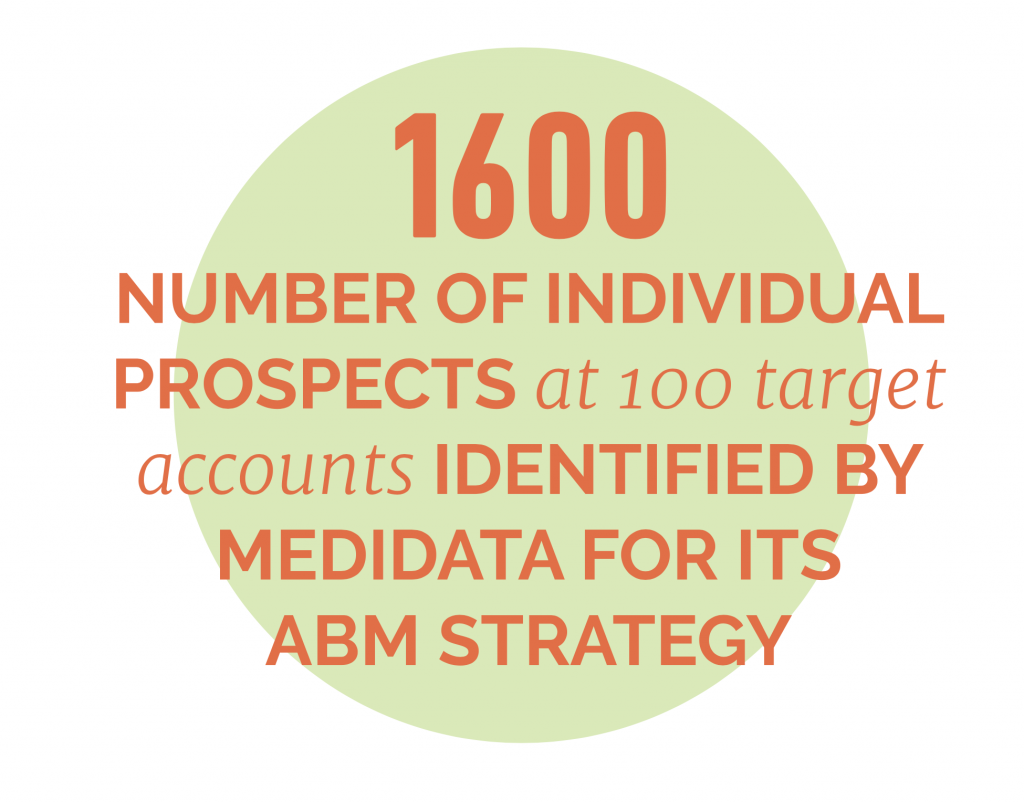 Seaner has also gone back to SiriusDecisions to request additional advisory services. He suggested three services he'd like to see the advisory firm offer: advanced ABM advisory services, sales and marketing integration-type services, and advanced analytics. "I think there's a lot of good information about how you get started and what is [ABM], but the lessons and bottlenecks and mistakes are very instructive."
In the near future, Seaner hopes to hire additional data scientists to help develop proprietary analytic capabilities, although advances in off-the-shelf applications may mitigate the need for them, he said.
"The data science part is beginning to catch up to the industry," Seaner said.