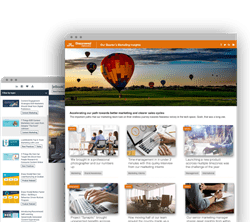 LookBookHQ, a content marketing engagement platform, has unveiled a new product within its Intelligent Content Platform called Explore.
Explore is designed to eliminate the need for one-off landing pages and microsites. enabling marketers to deliver personalized content destinations to buyers and meet buyers' evolving expectations. It can be used alongside the LookBookHQ Intelligent Content Platform — as well as its Target and Recommend product lines — to empower buyers to become sales-ready faster.
By aggregating collections of content together, Explore aims to help marketers:
Deliver the right content to the right audience;
Accelerate engagement with that content; and
Collect visitor intelligence and data.
"As more companies adopt account-based marketing strategies, marketing teams are scrambling to deliver tailored content experiences for each unique segment or account," said Nick Edouard, President and Chief Product Officer at LookBookHQ, in a statement. "Now with Explore, marketers can create fully customized, branded and mobile-optimized landing pages with just a few clicks."
In addition to Explore, LookBookHQ also released improvements to the machine learning algorithm for its Recommend product line.