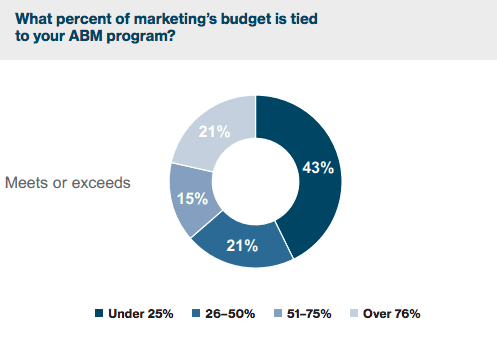 A successful ABM strategy is not contingent on a large marketing budget and expansive tech stack, but may in fact be due more to the structure and mindset within an organization according to new research from TechTarget and Heinz Marketing.
The report, which surveyed more than 262 B2B sales and marketing professionals, found that 43% of the companies who meet or exceed expectations spend less than 25% of their total marketing budget on ABM. Additional findings include:
93% of high performers say ABM has caused them to think differently about data, while 73% say it has changed the way they produce content;
67% of successful ABMers have achieved a more effective lead handoff; and
33% of high-performers have a dedicated marketing team, while 27% involve everyone from marketing in their ABM programs.
"Even though ABM is starting to mature, most companies are just starting out or haven't even begun. There is a lot of guidance out there, but little of it is built on a larger, more objective body of data," said John Steinert, CMO of TechTarget, in a statement to Demand Gen Report. "What we found is that there are a lot of differences between those who succeed, but there are irrefutable commonalities that deliver real success… What stands out most to us in this data is that real ABM success — sustainable revenue improvements from an identified set of accounts — is more about team and working the process than it is about tech and spend."