It's no secret that the Covid-19 pandemic interrupted almost every industry and forced businesses to pivot quickly. But healthcare and pharma organizations were in a unique position to innovate amidst the turbulence.
"Think for a minute about how fast we got the Covid-19 vaccine: It really created a shift in power that continues to ripple across the healthcare industry today," said Megan Wolfe, Managing Director of healthcare-focused management consulting and technology firm ZS, in her #B2BMX presentation. "As an optimist, and a marketer, I chose to look at the shift as an opportunity."
To get an accurate pulse on the changing pharma industry, Wolfe and her team started speaking to ZS's clients for "a lay of the land." Through their conversations, they uncovered that the process of bringing medicine to market was a linear and siloed effort that almost exclusively focused on engaging physicians — leaving a lot of prospects and opportunities on the table.
"We wanted to highlight to pharma companies that they can't just focus on physicians; they need to take health insurance companies and patients into account to get them to think differently about how they can work together within the healthcare space," said Wolfe. "The industry needed to move from B2B — which in this case was pharma-to-physician — and instead focus on business-to-ecosystem (B2E), which would be pharma-to-healthcare."
Establishing ABM Campaign Goals
The biggest challenge for ZS revolved around targeting the right prospects. Wolfe explained that while the company already had strong relationships with account contacts, the folks they connected with didn't have any enterprise influence.
"When we looked at the data to figure out what we wanted to do, we realized very quickly that we were not on the radar of the people we wanted to be talking to," she continued. "We have strong, deep relationships at the director level — the people who are on the frontlines getting the work done and have big budgets. But we did not have relationships with the executives, the people who were actually setting the strategy and driving the changes across the enterprise."
To help create an ABM program that would establish B2E as a pharma industry staple, Wolfe turned to Quarry, a B2B tech-focused demand marketing firm, to craft a campaign that would engage C-level contacts while simultaneously educating them on the power of pharma-to-healthcare. When the companies first connected, they laid out four goals:

Get on executives' radars;
Reframe industry conversations that would uniquely lead back to ZS, which "was the most challenging component," Wolfe noted;
Open C-level doors to generate qualified leads and book meetings; and
Ensure ZS was getting new revenue from customers.
Leveraging Multichannel Strategies To Establish ZS As The B2E Authority
With those initiatives in mind, ZS and Quarry created ZS's first 1:few ABM program, which targeted 30 existing clients. To ensure the campaign reached the senior leaders, Wolfe said the teams laid out three key objectives:
Build awareness by delivering a breakthrough, surround program that would actually permeate the minds of those folks with the concept of B2E;
Demonstrate that ZS owns that concept of B2E and is the only partner to help pharma navigate the complexity of switching to commercialization; and
Create a community that would solidify the B2E concept, which would provide more "gravitas" than ZS alone.
"We needed to simplify the messaging to make it less complex; an ecosystem is a much more overwhelming market to approach than just a single physician," said Meredith Fuller, Managing Director, Demand Strategy for Quarry. "The Quarry team launched a creative platform, which visually brought this ecosystem platform to life. The team simplified the messaging and used overlapping circles of various weights, colors, sizes and gradients to reflect the interconnectedness and multiple stakeholders within the healthcare ecosystem."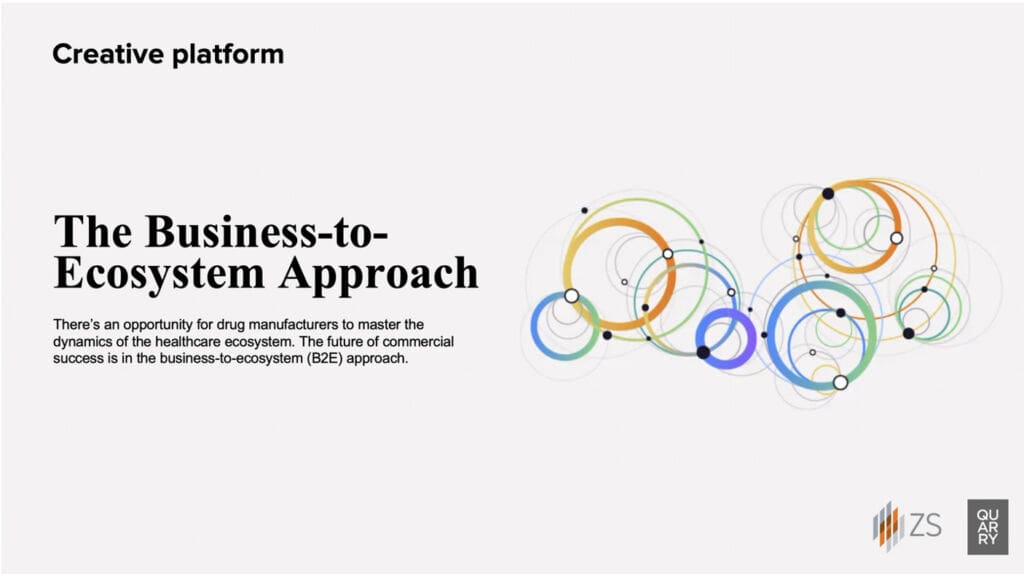 Fuller continued that this creative platform served as the "guiding light" from a visual and messaging standpoint for all the content and assets that went to market for the ABM campaign.
"The campaign itself was multi-phase, multi-touch and multichannel," explained Fuller. "It was highly integrated as well and featured inbound/outbound components alongside online and offline assets."
The first phase revolved around creating awareness and driving leads, which included a live webinar, content syndication and a combination of inbound and outbound channels. The second phase "bifurcated" into two streams, Fuller noted: The first stream was directed at accounts who were most engaged in phase one, as well as the most senior contacts at those key accounts. The second targeted the less-engaged folks on the same digital channels.
As for specific channels, Fuller explained ZS and Quarry relied on Demandbase, LinkedIn and Twitter for inbound, as well as other paid, owned and earned media opportunities. She continued that these channels helped extend the reach and credibility of the messaging. To further cement that credibility, Quarry helped ZS form a community through research, forums and more.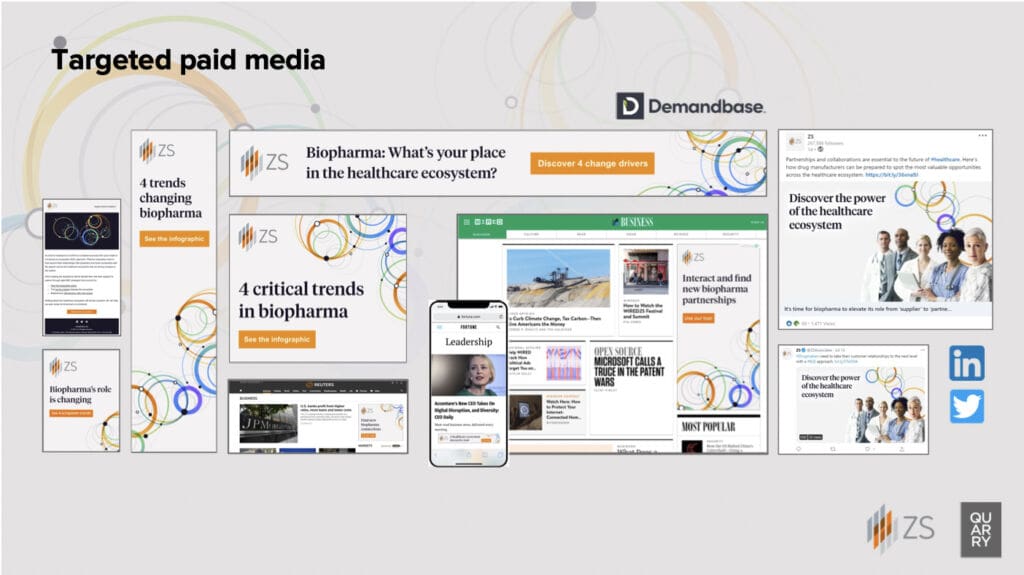 Additionally, the companies developed a white paper specifically focused around B2E to help de-complicate the concept for marketers. Further, ZS framed the messaging and themes for its annual Impact Summit around the B2E concept during promotion and throughout the event itself.
The team built out dedicated landing pages that allowed them to apply a higher level of personalization, drive easier conversions directly from inbound/outbound prospecting and promote event registration. To ensure it developed relationships with its target audience — senior leads — the ZS team invited those high-level contacts to an exclusive VIP breakfast event.
To promote the VIP offering, Wolfe explained that they sent out direct mailers to generate interest that featured an invitation to the breakfast and event swag. Further, ZS tapped in Dr. Sanjay Gupta, an American neurosurgeon and the Chief Medical Correspondent, to speak to the leaders about B2E to lend even more credibility and authority to the concept.
But the campaign wasn't just focused on external education.
"We really needed the internal team at ZS to embrace the B2E concept so they could comfortably and confidently talk about the creative platform, so we developed sales tools and support materials," explained Fuller.
Those materials included a real-time dashboard that measured against goals, objectives, tactical, channel-level performance and key ABM metrics, such as accounts and contacts reached, engaged and propelled through the buying journey.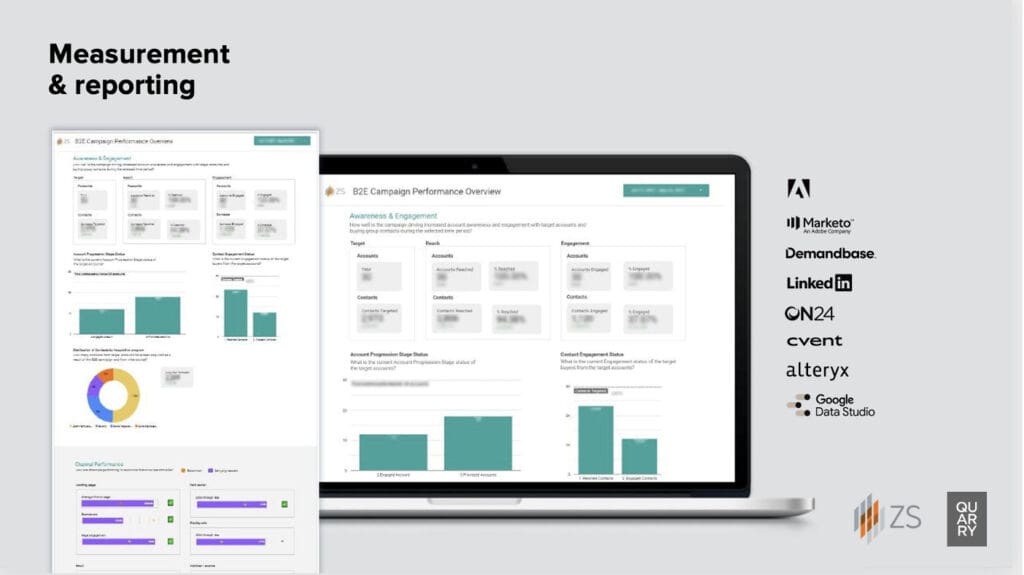 The Results
When summing up the results of their campaigns, Fuller and Wolfe noted three things in particular organizations need when launching a new ABM strategy:
Find an internal champion;
Align on messaging and initiatives early; and
Seek expert insights and leverage them as a key differentiator.
In terms of specific results, ZS:
Netted 1,500 new relevant contacts at its target accounts, which increased the marketable database by 214%;
Added 329 new contacts into its database;
Saw a 5X increase of VP, SVP and C-suite attendance at its Impact Summit;
Drove 425 additional new contacts to drop into its surround program;
Engaged with 100% of all 30 accounts it targeted and, of those, 60% reached prioritized account status; and
Generated more than 2,000 net-new contacts and saw 8,000 unique microsite visitors.
"As marketers, we're very heads down to get our work done — but when it comes to a campaign like this, it's important to pick your head up and look across your organization to see what else is happening and what else you can plug into," said Wolfe. "Don't feel like you must build it all from scratch or net-new; take a look, partner with your peers and figure out how to bring that information to market through things that are already there. And don't be afraid to admit that you don't know how to do things. We looked for a partner in Quarry to not only help us fast track B2E and get results, but to also teach our teams about building and running a campaign. And the results speak for themselves."