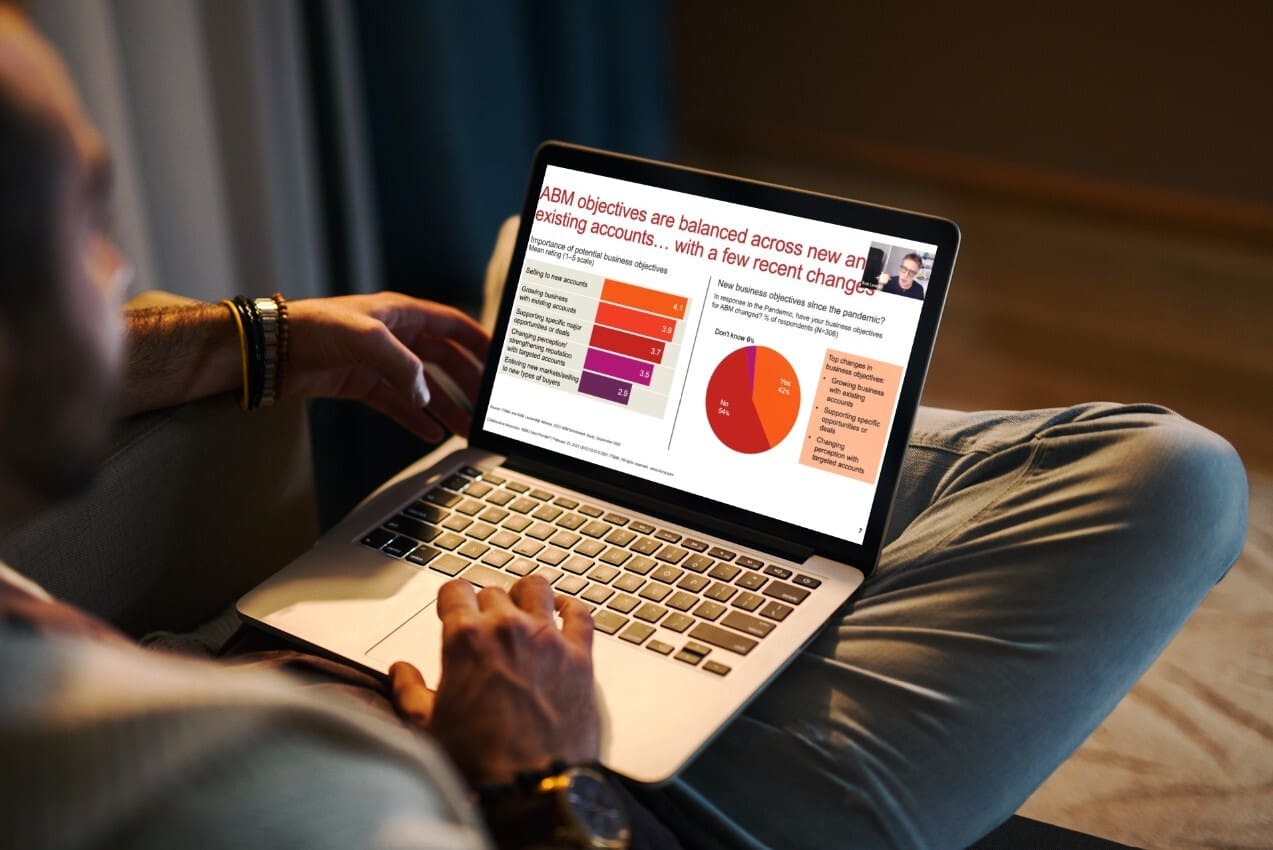 The 2021 virtual edition of the B2B Marketing Exchange provided marketers with the tools needed to remix their marketing strategies, renew their focus on target accounts, refresh their business partnerships and connect with potential collaborators. Account-based marketing (ABM) received hours of attention as new trends and best practices emerged in the ABM In Action Live! content track.
The three biggest takeaways from various seminars, Case Studies, Keynotes and Lunch & Learns revolved around the implementation of people-based strategies, opportunities for collaborative innovation and best practices for blending demand generation marketing strategies with ABM.
Tailoring Marketing Content To Decision-Making Individuals
At first look, some may scratch their heads at the idea of replacing account-based marketing (ABM) with people-based marketing (PBM) — after all, it's not in the name. However, there's value in personalizing and tailoring traditional ABM strategies to help prospects better understand the benefits your company can provide to them.
Dmitri Lisitski, CEO & Co-founder of Influ2, and Aristomenis Capogeannis, Director of Revenue Marketing at NVIDIA, discussed the importance of shifting from an account-based marketing (ABM) strategy to a people-based marketing (PBM) strategy during their session, "Why B2B Marketers Need A People-Based Strategy In An ABM-Focused World." The pair discussed how PBM works to blur the lines between sales and marketing by turning it into one Revenue Operations (RevOps) structure.
Although companies often fall in similar tracks and seek the same solutions, they don't have the same pain points, wants or needs, explained Capogeannis. Instead, a people-based approach helps personalize pitches to specific companies and their respective decision-makers to provide more in-depth information that addresses their pain points, understands what solutions they're seeking and explains how the company can tailor its product to the prospect's desires.
Instead of using traditional "spray-and-pray" methods to generate leads, Capogeannis explained that organizations must identify a brand's decision-making unit (DMU) and target the individual(s) by their intent level. This strategy allows sales development teams to schedule meetings with the right contact and tailor experiences throughout every point of the buyer's journey. This includes person-based, targeted advertisements across the prospect's social media channels and the websites they frequent.
Innovating With Target Accounts Increases Engagement
Research from ITSMA suggests 89% of accounts utilized innovation/briefing centers to keep up with industry trends, research potential solutions and reach final buying decisions in 2018, and have been craving that kind of interaction with businesses ever since.
With the acceleration of digital and shifts in priorities in 2020, marketers have an opportunity to improve their ABM programs in 2021 through collaboration with target accounts. Rob Leavitt, SVP of Consulting at ITSMA, suggested that ABM priorities require more input from accounts than ever before, and that co-creation is potentially ABM's future.
Leavitt explained that the shift to digital has made collaborative innovation easier than ever, as businesses can bring together target accounts to co-create with providers or their peers to create content that helps increase account engagement.
"This is the kind of investment that we think is so critical now to power our ABM programs to seize a new level of opportunity," said Leavitt during his presentation. "Both customers and prospects can come together to innovate and brainstorm ideas on the future with peers and executives."
Fujitsu took a collaborative approach to its ABM programs with its Fujitsu Human-Centric Experience Design initiative. Fujitsu is working directly with its target accounts to help both Fujitsu and the account understand the challenges with their product and improve their ABM strategy, which ultimately increased engagement and ROI.
"We've built this into every part of our ABM program, and it has become an essential part of how we engage with our customers," said Andrea Clatworthy, Global Head of Account-Based Marketing at Fujitsu, during a session at B2BMX. "Our co-creating approach enables us to work with our customers to help us, and more importantly help them, understand their business challenge within the context of their own strategy in a practical, energetic way."
Blending Demand Generation With ABM To Increase Conversion Success
Within the B2B space lies an opportunity to blend two popular marketing strategies: demand generation and ABM. While those two strategies typically operate in silos, Mike Waldron, VP of Uberflip, breaks down the walls and discusses how marketing and sales teams can take the most successful aspects from each to achieve greater success.
In Waldron's session, "How Does An ABM Company Actually Do ABM?", he explained that marketing owns the metaphorical "nine-to-five" relationship with the prospect, while the sales team oversees the "five-to-nine" relationship. During those "business hours," it falls on marketers to discuss how their organization can provide value to the prospect and start building the relationship, using personalization as the catalyst. This personalization should be completed at scale (with the help of automation and technology), which is accomplishable through PBM.
For its part, the sales team operates metaphorically outside business hours, and its primary focus should be on developing a 1:1 relationship with the prospect by building upon the personalization groundwork already laid out by the marketing team. This personalization should take place across the buyer's journey and at a human level, with a focus on anything from the prospect's favorite food, pet, sports team or alma mater.
"The ultimate goal with ABM is to soften the ground by building trust and credibility with a prospect so the sales teams can start building a 1:1 human relationship," said Waldron. "We're not building a connection between the marketing team and the buyer; we're building the connection between the brand and the buyer. It's down to the sales rep to know as much about an individual prospect on the business side and the personal side."
ABM will keep evolving throughout 2021 as marketers continue to put the people behind the accounts first, become more personalized in their approaches and collaborate with customers to improve their ABM programs. Marketers are beginning to consider more of the human aspect behind marketing and are implementing changes to their ABM strategies and programs to reflect that new reality.