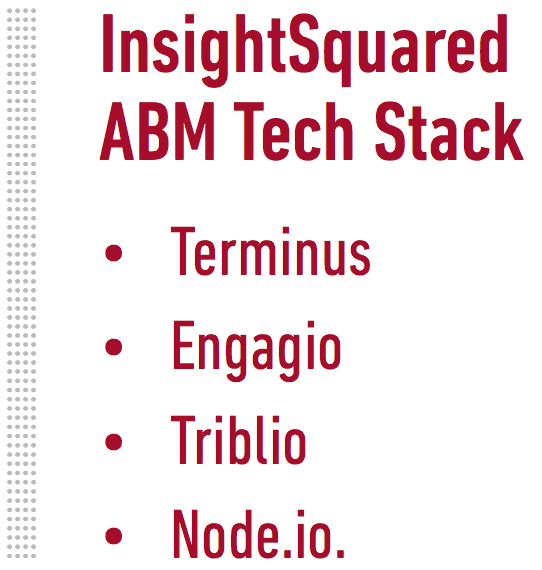 Given the targeted nature of ABM marketing initiatives, many companies have struggled to develop more specific and relevant messaging for the smaller segmented audiences.
To better understand the transformation from traditional outbound campaigns to ABM-specific messaging, we spoke to noted content authority Joe Chernov. Currently VP of Marketing with sales performance analytics company InsightSquared, Chernov is well known and regarded for his work as an executive at HubSpot, Eloqua and other B2B brands.
Chernov said InsightSquared is currently about 75% of the way into its ABM journey. Currently, the company has established ABM goals, which are rolled up into revenue targets; has a tech stack deployed and integrated; and has reporting up and running.
Chernov described the company's efforts as a "hybrid ABM/inbound approach," because it includes inbound initiatives at the top of the funnel and ABM for named accounts.
While still supporting the need for top-of-funnel content, Chernov said there is now more emphasis on "identifying signals at known accounts. In its most simple form, we are in the prioritization business."
COLLECTIONS OF CONTENT
In addition to shifting its approach regarding top-of-funnel content, Chernov pointed out that InsightSquared's ABM strategy has also required a new approach to lead nurturing, with much narrower nurture streams.
"I've described ABM as lots of little marketing given that the challenge is in running multiple campaigns at very small audiences." Joe Chernov, InsightSquared
"All of the accounts that are being worked by sales are members of a cohort, and each of those cohorts has its own sequence of touches and its own special collection of content," he explained. "I've described ABM as lots of little marketing given that the challenge is in running multiple campaigns at very small audiences."
The type of content and offers used for ABM initiatives is also very different, with more of a focus on targeted ads to invitation-only events, premium mailers and "narrowcast" email.
Chernov added that a focus on "internal influences" has also been critical for the company's ABM strategy. "In the ABM world, an influencer is basically someone on the buying committee that's unlikely to get on the phone with sales. For us, that influencer is the CFO. We may sell to the head of sales or to the sales ops leader, but the CFO is a key stakeholder. We're now working on a campaign dedicated to that elusive persona."
Although InsightSquared is still in the early days of its ABM rollout, Chernov said the initial results have been impressive enough to get buy-in from sales and upper management to expand the program.