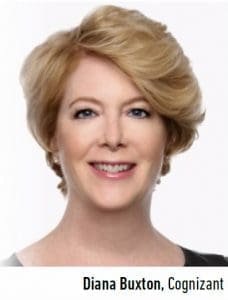 Building collaborative relationships with evolving brands' C-level executives positions ABM practitioners to promote continued business and generate new opportunities.
Professional services company Cognizant, specifically its Banking and Financial Services (BFS) division, has seen notable success by identifying and targeting key executives within high-priority accounts to promote themselves as thought leaders and deepen client relationships.
The ITSMA has even spotlighted Cognizant as a prime example of a B2B organization that is going above and beyond with creating engaging programs that engage C-level executives at top-tier accounts. The company also received a Marketing Excellence Award from ITSMA at the end of 2016 for their initiatives.
"Cognizant gets results because they invest in all the up-front work," said Rob Leavitt, Senior VP of the ITSMA. "They dig deep to understand the business issues that really matter to their target accounts, put the time in to create new and compelling points of view on those issues and equip their senior sales and consulting leaders with the opportunities and tools to connect at the senior-executive level."
Cognizant stated that its disciplined approach to account targeting and executive engagement has produced measurable results in the marketplace. The company shared with the ITSMA that the approach increased the winning mindshare and relationships with key executives, brought in hundreds of MQLs, dozens of new opportunities and directly sourced and supported multiple major digital deals.
The expansive segmentation strategy was designed to enable Cognizant to target key executives within high-value accounts based on the objectives of the campaign, target buyer imperatives and target focus areas and revenue priorities. The goal is to promote deeper engagement with key executives within specific top-tier accounts with relevant thought leadership content.
"Selling to the new digital buyers requires establishing executive relationships that support real collaboration at the highest level," said Diana Buxton, CMO for the BFS division at Cognizant, in an ITSMA briefing. "Our whole job is to create thought leadership and executive engagement programs that connect with these incredibly busy executives and build those trusted relationships."
Buxton described the account exploration process as "robust," noting that the company leverages account intelligence, market insights from various sources, detailed data from client partner/account manager face-to-face interactions—which is then segmented and sorted into an account grid and heat map.
"We arrive at a consolidated scoring grid that helps us clearly map out business priorities/ imperatives and the key areas to go after that resonate well with the client," Buxton said in an interview with ABM in Action. "The most critical factor is how we align all our efforts back to the buyer journey—which, in turn, maps back to the sales pipeline."
Having launched its new thought leadership and executive engagement approach in fall 2014 with a single campaign, the company has gained enough internal support to have 15 similar campaigns planned throughout 2017. This approach developed by BFS division also became the model rolled out across all other vertical and horizontal business marketing teams.
Forming In-Depth Profiles For Enhanced Engagement
Once these profile grids are formulated, they are used to help Cognizant's marketing team identify key priorities and targets for relevant communication. The team then maps back the entire communication plan customized to a specific line of business or a targeted title/role. These can include case study mailers, solution deep dives and demos, which are then "all mapped back to the client lifecycle and the current stage in the B2B business cycle," Buxton said.
Buxton's team also builds contact information sheets that provide a complete update on buyer personas and the corresponding outreach activities, current buyer statuses, and whether the stakeholder is an influencer, decision-maker or part of the C-suite. These sheets enable the marketing team to gain deeper insight to help "build custom campaigns to target from a one-to-one perspective," Buxton said.
When selecting appropriate channels to engage prospective accounts, the decision is "based on the type of buyer and our relationship and engagement with them," according to Buxton.
Some of the channels Buxton's team has leveraged include:
Direct/personalized mailers;
Workshops;
Blueprinting sessions;
Custom events and advisory councils;
Digital strategy sessions in the company's New York City innovation lab;
Customized web-based targeting initiatives;
Microsites; and
Digital books.
"We look at both quantitative and qualitative data with a nimble and agile approach to track these metrics," Buxton said. "We then make changes and improvements to these campaigns [for better] impact of ABM on the sales cycle."