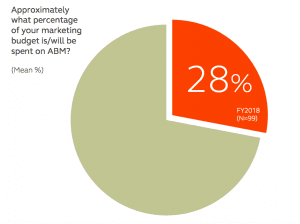 Seventy-seven percent of B2B marketers say ABM has helped drive success with target accounts and 45% say they have seen at least double the ROI, according to new research from ITSMA, Demandbase and the ABM Leadership Alliance.
The study, which surveyed 207 B2B marketers, found that ABM campaigns are getting more sophisticated. In fact, the number of campaigns that target accounts across multiple tiers rose from 35% in 2017 to 46%.
Additional findings show that:
ABM programs account for roughly 28% of overall marketing budgets;
31% of marketers have had an ABM program in place for 1-2 years; and
The top ABM challenges include tracking results (35%), personalization (34%), budget (30%) and scaling campaigns (30%).
"It's encouraging to see so many marketers investing in ABM and beginning to reap substantial rewards," said Rob Leavitt, SVP of ITSMA, in a statement. "The focus is now shifting from why companies should implement an account-based approach to how marketing, sales and business leaders can collaborate to ensure maximum benefit from this strategic discipline."