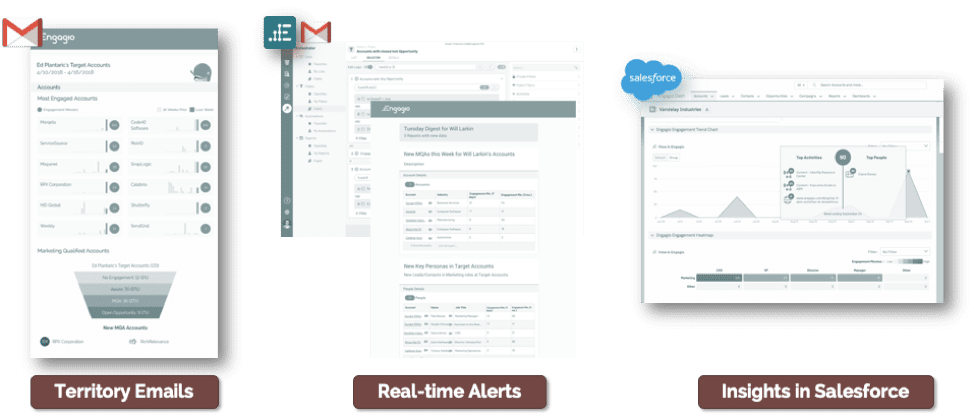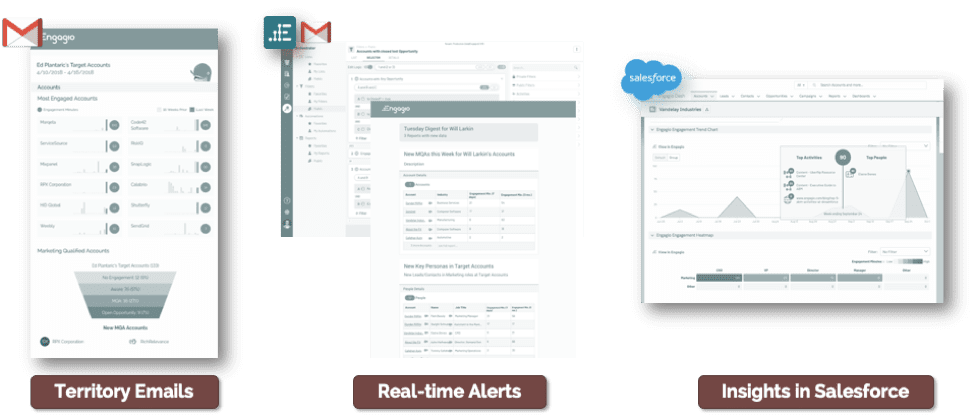 Engagio released Sales Activation Tools that aim to provide customized account insights for sales and marketing users. The new capabilities position marketers to proactively notify sales with relevant and timely information to create pipeline and close more deals.
BACK-OF-THE-BOX DETAILS
Sales Activations Tools are designed to provide greater account-level insights and strengthen the partnership between marketing and sales to ensure ABM success. Features include:
Territory Digests: marketers can send weekly snapshots so AEs and SDRs know exactly what's happening in their territories and can effectively prioritize their activities for the week, as well as prepare for QBRs and deal reviews;
Account Insights in CRM: Sales Activation Tools aim to simplify account access for sales by allowing them to see exactly who's doing what right inside the Salesforce account page; and
Alerts: users can create alerts for real-time notifications that inform marketing and sales teams of key events that require immediate follow up, such as activity from accounts with open opportunities that are scheduled to close within 90 days.
WHAT IT WORKS WITH/CONNECTS TO
The tools are positioned to integrate with Salesforce CRM and MAPs such as Marketo, Eloqua and HubSpot to capture account-level insights. These insights are then available to users directly in Salesforce and can also be delivered directly via email to the user's inbox.
DELIVERY/PRICING MODELS
The new offering is included as part of the core Engagio application at no extra charge.
CURRENT CLIENTS/USERS
Engagio customers include Snowflake, Eventbrite, JDA Software and more.
WHAT ELSE YOU NEED TO KNOW
Sales Activation Tools are designed to move beyond just people insights to find the people, opportunities, activities and accounts that are most important to creating pipeline and closing deals. They aim to align marketing and sales and provide real-time alerts for key account activity. The alerts are easy to set up and scale, so marketers can provide customized information to sales and generate quick wins for the team.
CONTACT INFO
Engagio
181 2nd Ave
Ste. 200
San Mateo, CA 94401
+1-650-487-2050
sales@engagio.com