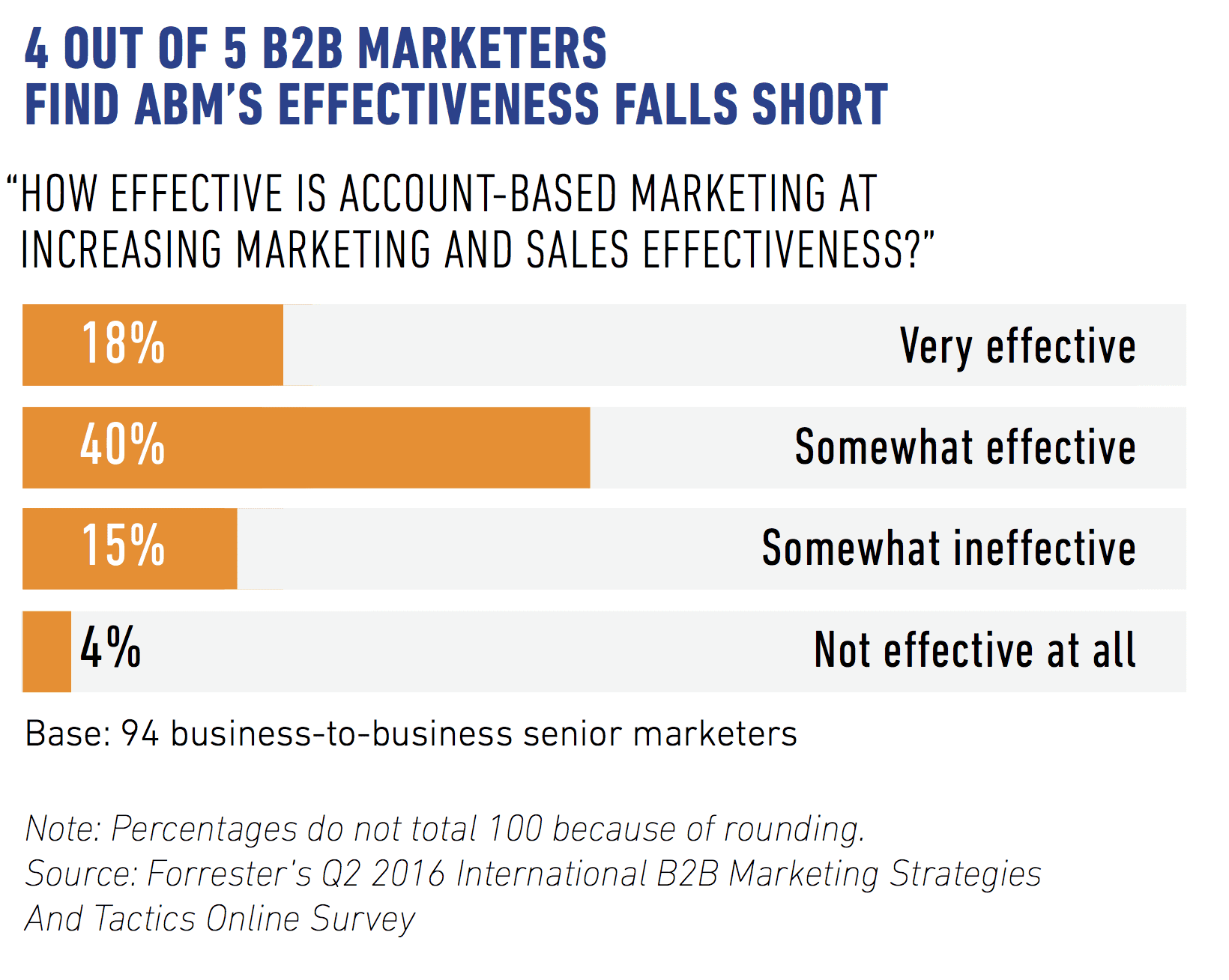 ALTHOUGH ACCOUNT-BASED marketing isn't new, interest in it has escalated recently, which research and analyst firm Forrester said can be partially attributed to a "frenzy of interest" to align sales and marketing at B2B companies. But something isn't adding up — this growing interest in ABM isn't necessarily translating to successful implementation, according to a new report from the firm, titled Retro Yet Revolutionary: Demystifying Account-Based Marketing.
In fact, four out of five B2B marketers who implemented an ABM strategy said that they are still not seeing its effectiveness, according to the report. (Forrester interviewed 24 ven- dors and B2B companies about ABM and also looked at findings from its Q2 2016 survey of B2B marketing professionals for the report.)
FORRESTER OFFERED A FEW POSSIBLE REASONS FOR THIS DISCONNECT
First, the firm asserted that because of all of the market hype around ABM, it's "suffering from an identity crisis" and in some cases has become no more than just another label for selling products. The majority of Forrester's survey respondents agreed, with 73% of B2B marketers saying that, as an industry term, ABM "lacks specificity and is applied inconsistently to many different approaches."
22% said ABM "not applicable in their situation today."
The Forrester report also noted that ABM can't shed its legacy from its original use as a sales support tool when it was introduced in the early 2000s. This causes companies to approach it in an outdated way instead of taking full advantage of the strategy. In fact, 43% of the marketers surveyed saw ABM as a sales enablement approach, noting that it's most effective for converting leads to deals. Only 4% said ABM is an effective way to create brand awareness or interest.
NEW MINDSET, NOT TECH, IS KEY TO ABM SUCCESS
The vast marketing technology landscape can also be a hindrance to effective ABM adoption, with several vendors scrambling to release new ABM capabilities or labeling their existing solutions as ABM tools, according to Forrester.

"We see marketers, commonly in the mid-market, integrating a dozen or more technologies to build their martech stack," wrote Laura Ramos, VP, Principal Analyst at Forrester and author of the report. "While this may work for firms with fewer than 1,000 employees, large enterprises like Microsoft want more substantial solutions."
Successful ABM requires a new mindset for B2B companies, not just new technology, asserted Forrester. This new mindset should be obsessed with the customer and disciplined with the execution of an ABM strategy: ABM succeeds when "marketing and sales jointly obsess over how to pursue, establish, and grow long-term, highly engaged revenue relationships with specific customer accounts," wrote Ramos.