JUNIPER'S WORK IN ABM has continued to be recognized as best-in-class during the past few years, winning the Diamond Award from ITSMA again in 2016. However, this success has not led the company to stray from its focused and account-based approach.
The results of that award-winning work were impressive — including increasing marketing contribution to a multibillion-dollar pipeline by 30%.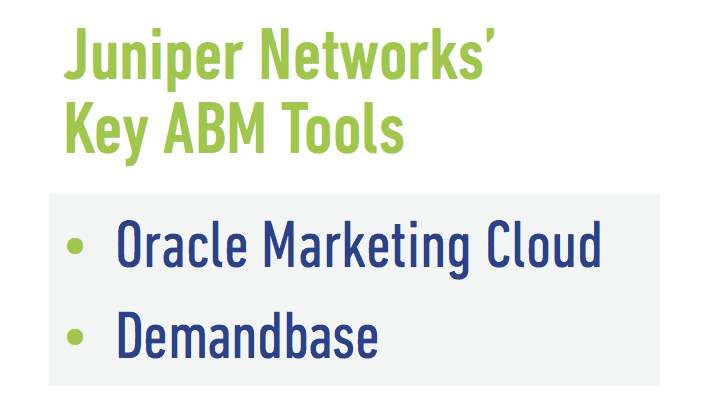 Mike Marcellin, CMO at Juniper Networks, explained that the company's deep commitment to true account-based marketing has only expanded to 12 accounts over the last few years.
"We have something we call the 'customer team model,' where the sales leader is the quarterback, but every function across the company is part of that team and mobilizes to support what those customers need, and marketing obviously plays a big role," Marcellin said. "Account-based marketing really started to create a high-touch marketing motion to support that, and the revenue we saw from those customers warranted it. We could justify having a dedicated marketer working on those accounts on a one-to-one or — in a few cases — on a one-to-two basis."
Marcellin explained ABM is not only a strategy to drive increased revenue from key accounts, but also an opportunity to gain more insights and develop deeper connections with companies that are core to Juniper's business.
"ABM is not only about how we can accelerate revenue and improve win rates, but how we can get closer to these customers and provide them a better overall experience." Mike Marcellin, Juniper Networks
"ABM is not only about how we can accelerate revenue and improve win rates, but how we can get closer to these customers and provide them a better overall experience than what they might get if sales and marketing were more in isolation," he said. "ABM has been a great way for us to get real-time feedback on which marketing activities work and which don't.
TOOLS FOR TARGETING INTELLIGENCE
While Marcellin emphasized that the people and process aspects of ABM are just as important as technology, he said Demandbase and Oracle Marketing Cloud are a few of the tools that have been critical to the company's success.
"Demandbase has helped provide us with a lot of insights and intelligence around what executives from specific companies are interested in and how they are engaging on our website," Marcellin said. "The goal is to serve up offers that are relevant and timely. The more intelligence that we can use to serve up offers that are helpful and delivered in a personalized way, the better," he said.
Acknowledging that Juniper has thousands of content creators across its sales and marketing organization, Marcellin also highlighted a tool developed internally called the "Network of Knowledge." The collaboration platform enables efficient peer-to-peer content and information sharing across the organization. "This allows our team to share best practices, news and information that may be relevant to other team members," he said. "If there is a new piece of legislation or another development which could affect one of the verticals we target, the Network of Knowledge platform enables our team to have a very vibrant discussion between marketers and sellers on that topic and then pivot that conversation into a set of marketing activities that are going to help be relevant with those accounts."
Marcellin said Juniper's ABM measurement has required new applications and approaches. "Because of the high touch nature of ABM, we address the longer tail impact in a different way," he said. "We have accountability to the pipeline and sales numbers for specific accounts, but we have also gotten very precise about really understanding the influencers and decision-makers. [We] track their opinions and their perceptions of our company and brand."
ABM-ERS ACT AS ACCOUNT CMOS
Unlike many companies deploying ABM through their broader marketing team, Marcellin explained that Juniper's model of ABM has included an "embedded marketer," working directly with a sales account team. Referring to the dedicated marketers as "our ABMers," Marcellin explained that these trailblazers are helping to shape a more focused engagement approach.
In particular, he highlighted the work of Raianne Reiss, Director of Marketing, Telecom, who helped establish the first award-winning program at Juniper. "The dedicated ABMers are few, but mighty," he said. "It started out in North America with Raianne and a few other key folks who built up this account-based approach and showed the possibilities."
Marcellin said ABM now represents "the tip of the spear" to the company's largest accounts. "I'm looking at the ABMer to be the CMO of that account. That means that no one in this organization will know that account better than they will, and I'm relying on them to know what we need to do to support that account."
"The dedicated ABMers are few, but mighty." Mike Marcellin, Juniper Networks
Based on the early success of its ABM initiatives in North America, Juniper's account-based approach was expanded to a handful of accounts in Europe, the Middle East and Africa (EMEA) and is now slated for adoption in APAC in 2017.
In fact, Steve Liput, Senior Manager, Telecom, Cable & Cloud Marketing, EMEA, and the Juniper EMEA ABMers were recognized with the recent ITSMA Award for their successful rollout of thought leadership campaigns to targeted channel partners and of strategic accounts.
EXPANSION OF ABM LITE
Marcellin said the company is beginning a gradual adoption of "ABM Lite" programs, where a dedicated marketer works with 5-10 accounts, usually aligned around a specific vertical. "We are trying to bring to bear the intelligence and analytics that we get through our digital marketing tools," Marcellin said. "This allows us to take a more personalized or customized marketing approach, in concert with the sales teams."
Marcellin estimated there are around 20 accounts being targeted globally in the ABM Lite model initially. Based on the success of that model, it may be expanded further. "This model is really reliant on leveraging the investments we've made in automation tools, so if we do expand from 20 accounts to 100 in two years, [it] won't require a quintupling of the marketing team."
Since a high percentage of Juniper Networks' sales go through the channel, Marcellin pointed out that partner enablement will be another critical strategy as the company expands its ABM approach.
In addition to high-touch marketing, such as customer-specific events and custom webinars, Marcellin added that the targeted approach focuses on supporting the sales team. "In many cases, it's marketing content that may go through a seller in some way, or it could even be training content to get our sellers more adept at speaking with and being valued resources for those accounts."