ANALYZING INDIVIDUAL leads' buying behaviors continues to hold value in an ABM environment where multiple stakeholders have a say in buying decisions. Companies such as EverString are analyzing account engagement with individual pieces of content to understand how those assets are fueling conversation within target accounts and contributing to the company's bottom line.
The predictive marketing software provider is relatively new to ABM; the company has been formulating its strategy for approximately eight months. EverString's main goals for the program are "activation and acceleration of key accounts," according to Dayna Rothman, VP of Brand, Content and Demand Generation at EverString.
"We have a lot of strategies built out and formulated tiers to make sure we have everything we need to be successful," Rothman said. "It's a big initiative for us in Q4, as well as all of 2017."
The three-tier system formulated by Rothman's team helps the company prioritize its target accounts. With roughly 30 accounts in tier one, she said that EverString primarily tracks acquisition within each account, based on content engagement.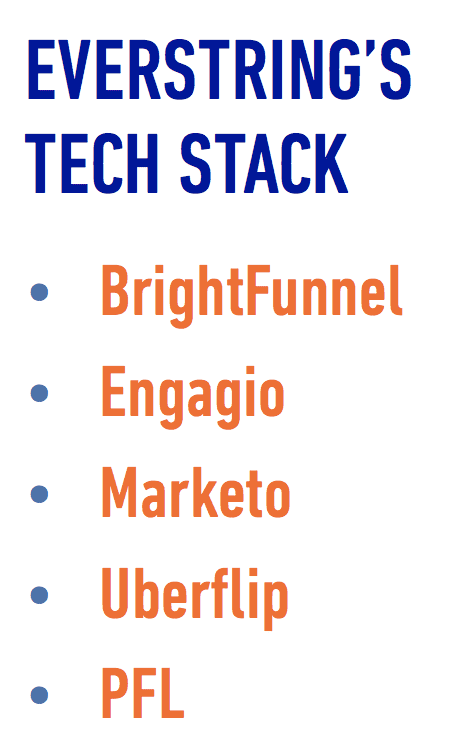 "We take a multi-touch perspective [to understand] what content is moving accounts through the funnel," said Rothman. "Ultimately, we can then find out how this content leads to conversion, pipeline and revenue."
To achieve this, EverString leverages BrightFunnel, an attribution and forecasting solution. The solution can help measure content engagement on the account level, as well as identify all the touches within an account.
"We're not just looking at leads; [we're] looking at full-account engagement," said Rothman.
EverString combines BrightFunnel's capabilities with Engagio, an ABM provider that the company uses for account tracking and campaign orchestration, or "plays." Rothman noted that this new ABM model required formulating a new scoring model as well — a hybrid of marketing-qualified leads (MQLs) and accounts (MQAs).
"We're not only sending MQLs to SDRs; we can add leads within an account and provide that insight to sales as well," said Rothman.
This insight into content engagement can be used for deeper content personalization and messaging, according to Rothman.
"Now we're identifying our cadence and aligning that with sales plans," she added.
SOME ANALYSIS CAN BE CUMBERSOME
Rothman noted that her team is still researching ways to analyze various content formats — direct mail, in particular. EverString leverages PFL to coordinate its direct mail within Marketo. Both tools enable Rothman's team to set triggers for mailers to be shipped based on engagement with other digital assets.
"Once it's delivered, the company is notified so [SDRs] can follow up in a timely manner," Rothman said.
Along with the notifications when mailers are delivered, EverString is also measuring social media to see whether accounts are sharing what they've received.
"Once we start generating significant engagement after a mailer, we know it is [efffective] and can attribute it as a touch in the account's path to purchase."