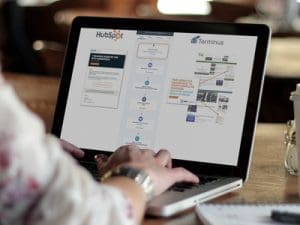 Terminus has announced an integration with HubSpot designed to help users launch account-based advertising (ABA) campaigns with enhanced messaging in email nurtures.
The integration pairs HubSpot's inbound marketing capabilities with the Terminus ABM platform to automate ABA campaigns from within the HubSpot Workflow tool.
Additional benefits for users include:
Expanded reach, designed to go beyond the individual lead to engage all the decision-makers and influencers at an account, even without their contact data.
Marketing orchestration, which helps coordinate the right message across email nurture and digital advertising campaigns that can be tailored to each persona at target accounts throughout the buyer's journey and beyond.
Engagement reporting, which provides Terminus reports to track digital advertising results, website behavior and media spend at the account level to demonstrate marketing's influence on generating pipeline and revenue.
"With our product integration, HubSpot and Terminus customers can now orchestrate robust omnichannel nurture campaigns that increase awareness in the buying center and improve conversion of the most valuable contacts at best-fit accounts," said Bryan Brown, Chief Product Officer for Terminus, in a statement. "We approached this integration with the goal of giving HubSpot users the ability to expand reach beyond the lead's email inbox and amplify awareness and engagement by nurturing an entire account with digital advertising."