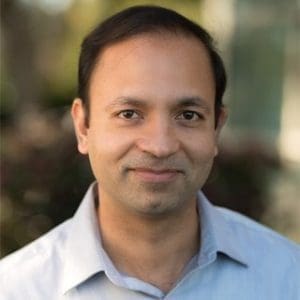 Founded a little more than 18 months ago, ZenIQ has quickly emerged as a serious player in the crowded ABM vendor landscape. The company has quickly grown to more than 35 customers, and made headlines recently with a $4.6 million funding round, which included investment from Salesforce Ventures.
ABM In Action recently sat down with ZenIQ's CEO and co-founder Srihari Kumar to discuss the company's plans for further funding and expansion. An experienced veteran of the martech space, Kumar was one of the founders of LeadFormix, and offered interesting perspectives on competitive positioning within the ABM landscape.
ABMIA: ZenIQ recently announced a round of funding with a notable investor in Salesforce Ventures. Talk about why that's significant and what it means for the current and future of the company and its customers?
Kumar: This is significant because Salesforce looked at pretty much every company out there and chose us in this space. We feel honored as such a young company getting chosen for this investment. It is significant because we represent the intersection of two mega trends:  AI and Account Based Marketing.  When you look at how these two things can come together, AI can better inform the approach and strategy for each target account at scale — providing the highest value next best step to help each marketing and sales professional. This investment has already spurred our sales and product teams. The possibilities for our clients and product are very exciting.
ABMIA: While we are still seeing huge interest and momentum around ABM, we are also starting to see some growing confusion among the growing roster of solution providers in the space. How is ZenIQ differentiating its platform among all the different solution providers that are trying to attach themselves to ABM.
Kumar: As you said, pretty much anyone, even companies that are doing surveys for example, are calling themselves account-based marketing. So, while account-based marketing is a broad term, what we focus on is account-based orchestration — AI-driven account-based orchestration. There are three key components of that. The first is what we call the self-driving data hub. This makes each of our clients experts at scaling cross platform insight for each target account: 360-degree view of activities and needs, buying center identification and buyer engagement. This pulls together all your data from your CRM, marketing automation, website and all the external data sources relevant to your account-based marketing efforts —company, firmographic data sources, technographic data sources, contact data sources and so on.
Part of this data hub, over the past 18 months we invested heavily in AI and data science to help figure out "who is your buying center?" It's very validating to hear SiriusDecisions now talking about buyers and the buying center in their new Demand Unit Waterfall. We are already at the point where we used AI and a simple connection to CRM and marketing automation to automatically figure out who your buying center is for each product.
We also analyze target account reach and engagement through this buying center lens. Are you reaching all the buyers that you need to? Then, are you getting engagement from those people? So the end result is the marketer doesn't have to have an army of people maintaining their account list, their contact list, refreshing them, making sure the contacts are up-to-date, making sure all the information on those contacts are up-to-date and so on. Everyone now has come to the realization that the most fundamental building block to get account-based marketing right is the data, so we have solved that problem first.
Second is account engagement score or earned engagement curve. What we saw was each account leaves a particular signature, if I may use that word, an engagement signature. So there is an account engagement signature that each account has. If you look at closed won/lost accounts, you can see the typical account engagement. Using AI, we produce an account engagement curve, a signature for what success looks like.
Then, based on a typical account engagement curve, we can compare all the target accounts and look at which ones are behind the curve and which ones are ahead of the curve. For those that are behind the curve, we then figure out what actions we need to take to slingshot them into the account engagement curve. For example, you might be missing key people in the buying center whose engagement you need so our platform would purchase those contacts and task SDRs to reach out to them. We also recommend what channels have the highest affinity based on the persona. So it could be direct mail versus email versus a webinar versus a dinner.
The third point is the actual orchestration. Only once the data and account insights are complete can a marketer make good decisions on what actions to take. We've built workflows called Smart Plays to help marketers scale account-based sales and marketing actions based upon target account needs. We are helping marketers move from a world of campaigns to account plays. They're smart because they're powered by data science and AI.
ABMIA: Are you seeing a change in the way customers are engaging, the questions they have or their expectations? How have the maturity and expectations changed since the first time you started to meet with people a year ago to what they're looking for now?
Kumar: Yes, a year ago, customers were all interested in learning what account-based marketing was. Now, some of them are saying, "I've tried account-based marketing. I really don't know what I'm doing wrong because somehow it's not having the results I expected." People are able to understand when we say that data is the most important foundational element that you need to get right in order to do account-based marketing successfully. We discussed many of these points in our conversation about differentiation but there is a shift in perception that ABM is a data and insight challenge, and not the media challenge they were first told.
ABMIA: We talked about how ZenIQ is differentiating from other ABM solutions, but how do you see the roadmap of different solutions playing out? Do you plan on integrating/partnering with other solutions and how do you see that ecosystem come together?
Kumar: We already have partnerships with all the data providers because they are part of the self-driving data hub we discussed earlier. In this case, we help clients operationalize and on-board the account data. Bombora is a partner and our relationship with them demonstrates my point well. If you receive information about "Intent Surge" from them, what do you need to do to take full value of the insight? Well, you'll need to look up each account to see if they're a target account, identify who you already know and what programs they're in, and perhaps change a few campaigns and buy a few more contacts before notifying the account team. Trust me, few people actually go through all those steps manually. We are also working with additional platform partners. Companies like SalesLoft and Outreach are natural partners because we can provide high-value triggered workflows to feed into the SDRs teams and feed their outreach campaigns.
ABMIA: You only recently closed a round of finding, but can you share your longer-term plan for growth? Do you anticipate further rounds of funding?
Kumar: Right now, this was a seed funding and we're planning to do another round towards the end of this year, as we're seeing a need to aggressively grow, given the demand that we are seeing.
ABMIA: How do you see growth opportunities in the ABM category versus other martech companies that you'd been involved with? How do you see the adoption rates comparing?
Kumar: The great thing is that we're seeing 120% uplift in revenue retention. So companies want to invest more. They're spending more. One of our customers recently said that their technology stack foundation is: CRM, Marketing Automation and ZenIQ. The ZenIQ platform is helping marketers realize the promise of ABM. We're seeing terrific usage and interaction rates.